Prolent
How it Works
Balance between inhibitory and excitatory neurotransmitters is vital to health and well-being. Inhibitory neurotransmitters such as serotonin, GABA and glycine control excitatory signals in the nervous system.
That is why supporting inhibitory neurotransmitters often results in an overall calming and relaxing effect.  
Prolent includes ingredients that support the action of inhibitory neurotransmitters. 5-HTP and vitamin B6 support serotonin synthesis. Theanine, as Suntheanine®, supports both the release of GABA and its function.
The combination of these ingredients along with glycine allows Prolent to offer comprehensive support for inhibitory neurotransmission.
The NeuroSupport Blend™ (NSB) enhances absorption. Improved absorption allows for smaller doses and fewer capsules. 
Prolent helps prevent over-excitation when catecholamine support is being used. Prolent may be used in Initial, Restoration and Maintenance phases along the path to patient wellness.
It may be combined with Lentra, SomniTR, or Tranquilent for added inhibitory support.
Ingredients 
L-theanine as Suntheanine

® 

(standardized to >99%)

: Shown to promote relaxation by multiple mechanisms including antagonizing glutamate receptors, increasing the release of GABA, and decreasing norepinephrine levels in the brain.

5-HTP:

  

A

 naturally occurring amino acid and metabolite of L

–

tryptophan. 5-HTP is the direct precursor in the biosynthesis of serotonin

.

 

Use of 5-HTP avoids the rate-limiting conversion of trypto

p

han to 5-HTP.

 

Glycine:  

F

unctions as an inhibitory neurotransmitter

, primarily in the brainstem and spinal cord.

Vitamin B6

(as pyridoxal-5'-phosphate):

Active form of B6. Cofactor in conversion of 5-HTP to serotonin.

 

NeuroSupport Blend

™

(NSB):

  

Proprietary mixture composed of 

Bioperine

®

and plant-based enzymes clinically proven to maximize nutrient absorption.

 
Supplement Facts
Serving Size: 1 Capsule
Servings Per Container: 60 Capsules
Prolent Formula295mg  
Vitamin B6 (as pyridoxal-5-phosphate)
Glycine
L-theanine (as Suntheanine®)
5-hydroxytryptophan (Griffonia simplicifolia) (seed)
NSB™ Proprietary Blend  102.5mg
BioPerine® (Black Pepper Extract) (standardized to 95% piperine)(Piper nigrum) (fruit)
Protease
Amylase
Lipase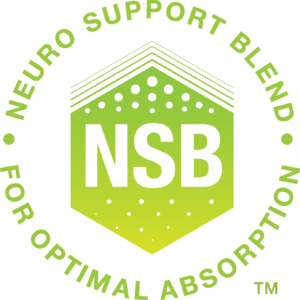 NSB™ is a trademark of Sanesco International Inc.


BioPerine® is a registered trademark and a product of Sabinsa Corp.


Suntheanine® brand L-Theanine is a registered trademark of Taiyo International, Inc.Suntheanine® is Generally Recognized as Safe (GRAS) & is Non-GMO Project Verified. 
Indications 
GABA is important for:
Sleep




Calm 

and relaxation




Mood

Regulating 

excitability



Serotonin also plays important roles in:
Mental and emotional health (including mood

 and anxiousness

)




Aggression



Learning


Stress response




Appetite and cravings




Pain 

perception

Libido




GI motility




Thermoregulation




Menstrual health




Sleep

Calm

 and relaxation

   



Muscle control and coordination Glycine is important in:
Pain 

perception




Detoxification




Connective tissue

 health




Sleep
For more information regarding Sanesco and Targeted Nutritional Therapy TNT visit www.sanescohealth.com